REALTOR.COM | By: Adriana Velez | Oct 2, 2017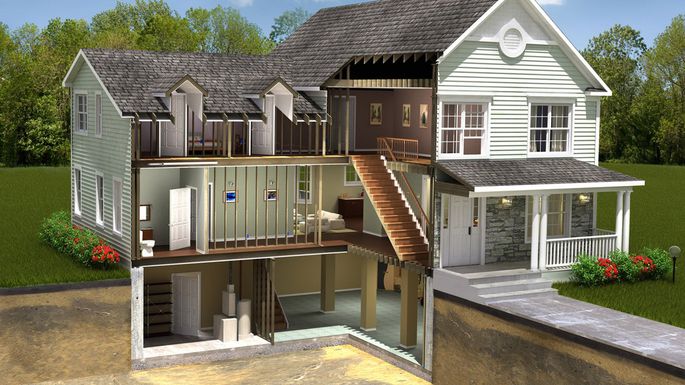 Good bones: Home buyers are apt to hear this phrase when touring a home—i.e., their Realtor® will say, "This home has good bones!" So what does good bones mean, exactly?
As the phrase implies, this house may not necessarily look all that great on the outside, but underneath, it's in fantastic condition. In short, it's a diamond in the rough.
"Good bones often refers to an ugly house that most people would pass on," says Mark Ferguson, a real estate agent and creator of Investfourmore.com. Here's why you should give homes with good bones some serious attention—and how to tell if a home's "bones" are up to snuff.
Good bones mean a home's floor plan flows
"To me, good bones mean a house has a good floor plan," says Maria Luisa Castellanos, a Realtor and president of United Architects in Coral Gables, FL. That means the floor plan flows well, so it's easy to get from one area of a home to another, and it all makes sense, based on what you're doing in these spaces.
"Related rooms need to be near each other," Castellanos continues. For instance, the kitchen should be next to the dining room, rather than at the opposite end of the house.
"Intuitive room flow has to do with what designers typically refer to as adjacencies," adds Bilox Wells, owner of Find Home Pro. "That may mean the kids' rooms are near the master bedroom, or the garage leads directly into the house."
Good bones mean there's room to breathe, and plenty of light
Homes with good bones typically feel spacious rather than cramped, thanks to ample room size and high ceilings. Meanwhile, large windows let in plenty of natural light.
This bright, airy ambience can also come from a home's being optimally oriented on the property. A living room's windows may boast southern exposure, to capture rays all day. The bedrooms may face east, so you can wake to the sun, while the dining room faces west, so you can behold the sunset over dinner.
Good bones mean no need for major repairs
Jesse Fowler, president of Tellus Design+Build, notes that homes with good bones generally need little work in terms of major repairs. The infrastructure—such as the foundation, electricity, and plumbing—are all in good shape.
"The structure itself is good, " Fowler explains. "The house is sound, not sinking, and there are no big framing or concrete repairs needed."
And this is not only good in terms of the home, but your wallet, too. A brand-new foundation, for instance, can cost up to $40,000.
Good bones mean you may need to make some cosmetic updates
Granted, homes with good bones will need some work. You may need to paint the walls, or sand down those hardwood floors, or update that trapped-in-a-1980s-time-warp kitchen.
But the good news is, cosmetic renovations generally aren't that expensive. According to Home Advisor, painting the interior of a home will only run you $993 to $2,722 on average (and even less if you do some of the painting yourself). Probably the priciest cosmetic fix will be a kitchen renovation, which will cost an average of $20,122.
How to find a home with good bones
Good bones is partly just a feeling you get walking through a home, but be warned—many aspects of bad bones are hard to see. For example, cracks may be difficult to find if they're in the interior of the building, but end up costing home buyers a pretty penny to fix.
As such, "a home [without good bones] may appear desirable and habitable, but could have poor infrastructure that can only be detected upon inspection," says Wells. So no matter how great a home looks, make sure to hire a home inspector to dig beneath the surface and make sure those "bones" really are as good as you are hoping.