​Wishing everyone a Happy Thanksgiving filled with family, fun and lots of pie !
~Dan Porter & Samantha Fish, Bozeman Broker Group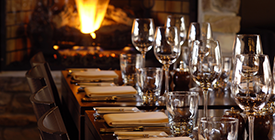 Essential Thanksgiving Cooking
NYTimes - Your guide to the year's most important meal, with our best recipes, techniques and tricks. Consider these building blocks, then make the feast your own.
History of Thanksgiving
For more than two centuries, days of thanksgiving were celebrated by individual colonies and states. It wasn't until 1863, in the midst of the Civil War, that President Abraham Lincoln proclaimed a national Thanksgiving Day to be held each November.
Macy's Thanksgiving Day Parade
America's favorite holiday tradition will once again kick off the season of joy as the 89th Annual Macy's Thanksgiving Day Parade returns to march down the streets of New York on Thursday, November 26 (9 a.m.-noon in all time zones).
Click here to sign up for our seasonal newsletters, providing you with important information concerning real estate, home improvement and life in Monana.