By Daniel DeMay
Bozeman Daily Chronicle - Sunday, March 1, 2015
The recent upswing in the economy has spurred a boom in construction in Gallatin County, but the construction industry is facing a labor shortage as skilled construction workers become harder to find.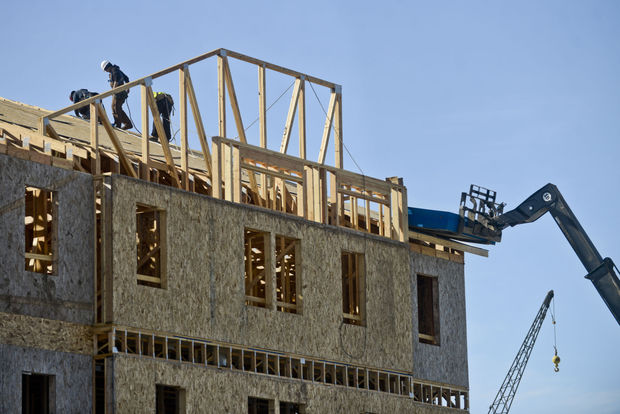 Bozeman might be facing a shortage of housing as people continue moving to the area, but the people scrambling to build more homes are facing a shortage of their own: skilled construction workers.

"It's bad. It really is," said Ron Trout, marketing director for the Montana Contractors Association. "But we're trying to circumvent that."
What Trout is trying to circumvent is a construction worker shortage that has driven labor prices sky-high and has organizations like Trout's reaching out to high schools and colleges to get young people to reconsider their ideas about the trades.
It's a problem in Gallatin County that is "very real," said Brian Popiel, who owns Arete Builders, Resource Site Services, and is also chairman of the Southwest Montana Building Industry Association.
Popiel said the shortage — and resulting high labor cost — is most pronounced with framers and drywall hangers, the less capital-intensive trades.
Drywall hangers who just a few years ago might have earned 22 cents per square foot of drywall they hung are now earning as much as 38 cents for that same square foot — a 57 percent increase in labor cost — Popiel said.
At 38 cents per square foot, a journeyman hanger could make more than $300 a day before taxes.
Popiel's observations are echoed in a national report released last June.
The report, issued by the National Association of Home Builders, found that roughly 66 percent of builders saw at least some shortage in rough or finish carpenter subcontractors.
In fact, across the 12 trades the group surveyed builders about, 41 percent reported a shortage of labor. That's up from 20 percent in 2012, the report found.
What makes the findings of the report — and what some local contractors are seeing — stand out is the fact that the housing market still hasn't fully recovered from the Great Recession (though local numbers are outpacing national averages).
According to the report, the labor shortage in the trades has grown significantly faster than the housing market since 2012, supporting what Trout is saying: fewer young people are going into the trades these days.
"One of the reasons is the paradigm," Trout said. "Construction has always had sort of a bad rap that it's just a job you get until you get a real job."
But that's hardly the only reason for the shortage.
When the housing market sunk in 2008, state and federal governments began offering a variety of retraining programs for those who lost their jobs. Many construction workers threw in the towel on labor jobs and turned to college for jobs that looked more stable, Trout said.
Popiel said he knew several people who got out of the trades and took lower-paying jobs that offered more stability and better benefits packages.
Another reason for the current shortage and resulting higher labor costs is that, during the recession and years following, workers and contractors didn't really raise rates, he added.
"Basically everybody in the industry spent five years without getting a raise," Popiel said.
A major contributor to the shortage locally is the rebound of robust development in the Big Sky community.
Development in and around the resorts there has bounced back to a boom, keeping contractors from around Gallatin County busy and driving up the cost of labor significantly.
"It certainly drives up the cost of tradesmen, because they're busy," said Kitty Clemens, executive director of the Big Sky Chamber of Commerce. "The busier they get, the more they raise their rates."
The National Association of Home Builders' report also noted increased labor costs across the country.
The report showed that labor costs — for direct labor and subcontracted labor — had increased 5.7 percent and 7.7 percent from June 2013 to June 2014.
Normally, the Consumer Price Index predicts costs to increase an average of 2 percent annually, the report noted.
Organizations like Trout's Contractors Association are trying to raise awareness and dispel misinformation about construction jobs. Trout said construction jobs don't need to be temporary — people can make careers in the industry that pay well and offer the same incentives as other industries.
"It's all about awareness and education," he said.
But until the industry evens out or more young workers turn back to construction, it's likely that skilled laborers will be in high demand and most contractors will have more work than they can handle.
Construction workers will often tell you: It's usually boom or bust. And this is boom.
_____________________________________________________________________________________________
Daniel DeMay can be reached at ddemay@dailychronicle.com or at 406-582-2651. DeMay is on Twitter at @daniel_demay.
Photo by Adrian Sanchez-Gonzalez/Chronicle.